When the promo images for Pam & Tommy dropped — one of actress Lily James wearing a replica of the black leather corset top Pamela Anderson wore to Cannes Film Festival in 1995, the other of her biting the nipple piercing of Sebastian Stan (tatted up as Tommy Lee) — they made one thing clear: the actors' transformations were impeccable. 
"When we saw it all come together with the hair, the makeup, the prosthetics, the costumes and then Lily's gestures, she embodied the character," says Kameron Lennox, the show's costume designer. "There were a few moments where I had to step back and take a breath." Some of those breathtaking looks were historic, culture-defining outfits recreated for the show, such as the famed Baywatch swimsuit, corsets for the movie Barb Wire and the white wedding bikini and sarong Pam married Tommy in after they'd met just four days prior.
Other looks were sourced from designer vintage fairs and sites, such as a couture Versace gown for a Jay Leno interview scene and a gold Vivienne Westwood dress for when the couple first meet in a club ("in my mind's eye she had to be this golden statuette that he's mesmerised by," says Kameron). We spoke to Kameron about recreating Pamela Anderson's most iconic fashion moments and putting together some seriously 90s outfits for all the characters. 
What was on your mood board for Pam's wardrobe? 
The first thing I made was boards that showed her [style] progression from the late 80s until the late 90s. It was a very specific time in fashion, and it was a very specific time in her life. She was wearing a lot of Versace and Dolce and Gabbana. Alaïa was a big one, and Vivienne Westwood. We were then able to source a lot of real pieces from those designers from vintage dealers. The Versace she wears in the Jay Leno was from a vintage fair. It's not the same dress, but it is from Versace 1993, and it's super sexy. It had this slit going up to her thigh, and I was like: 'This is the dress. Whatever we need to do to make this fit over Lily's prosthetics, we'll make it work.'
A few of Pam's most famed looks – such as the Baywatch suit, wedding bikini and Barb Wire outfits – you custom-made. How did you go about recreating these iconic moments and silhouettes on Lily?
There was a lot of engineering that had to happen with the Baywatch and Barb Wire looks. Pam could just slip into something and be fine, but we had to make sure they fit on Lily's prosthetics. Where we could, we would hide a bra, but there was this leather halter corset vest that we had to work with prosthetics closely and construct it so it fit exactly how it would fit Pam. The Barb Wire looks were a lot of fun to do. We recreated three of them.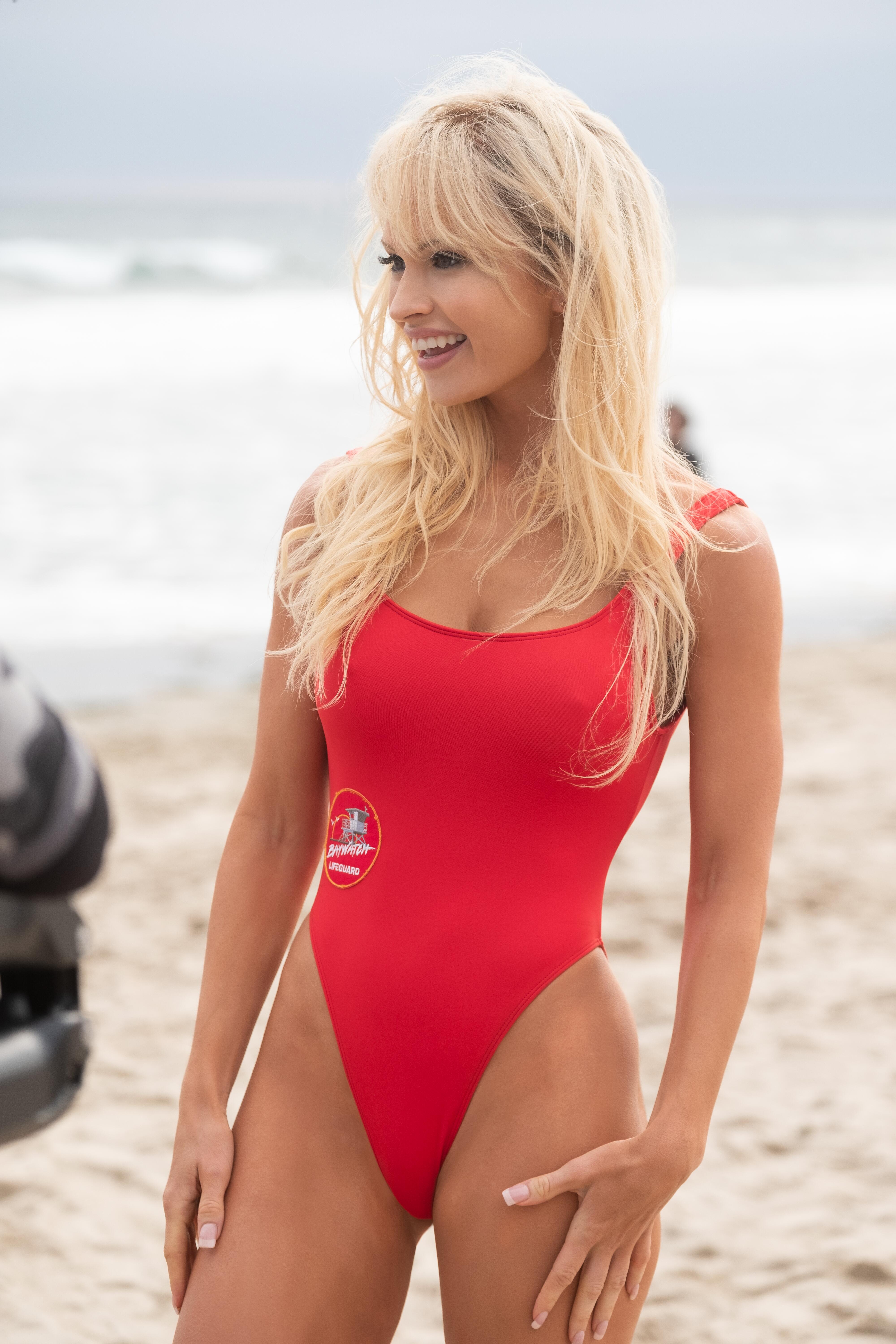 The show covers a few years in Pam's life. How did Pam's wardrobe in the show evolve as she later deals with the sex tape court cases?
For the deposition scenes, because [IRL] it was a private hearing, there aren't many photos, but there are lots of paparazzi ones. We were able to find a couple of looks she wore to the courtroom, including a green suit. There are a few design elements we tweaked, but we wanted to do the same cut and silhouette as the original. It was still form-fitting but not super tight or super low at the front. It was a mini skirt but not super short. Pam was clear about her boundaries, and she was still going to show up as who she is, but the conservative version of it.
We have to ask about Tommy Lee's G-strings. How did you go about choosing the style and prints for his G-string collection?
We made a couple of leather ones for him, but it had to fit Sebastian's prosthetic [penis], and the leather had no stretch. It highlighted things in the wrong way. So we chose stretch spandex and silks, and the patterns are based off what rock 'n' roll musicians in the 90s would choose. We custom made them from this Chippendales-style pair I found on eBay. Somebody else really wanted them as well; I'm not sure why, and I went into a bidding war to get them. But the day we went to shoot with the prosthetic, they were too small and didn't cover everything. We had to do an emergency cut there and then right before the scene, and then we recreated all the other ones in that size. The solid colour ones accentuated the size of the prosthetic the most, but we did so many versions of it. The idea was Tommy has a drawer full of thongs he just grabs and puts on.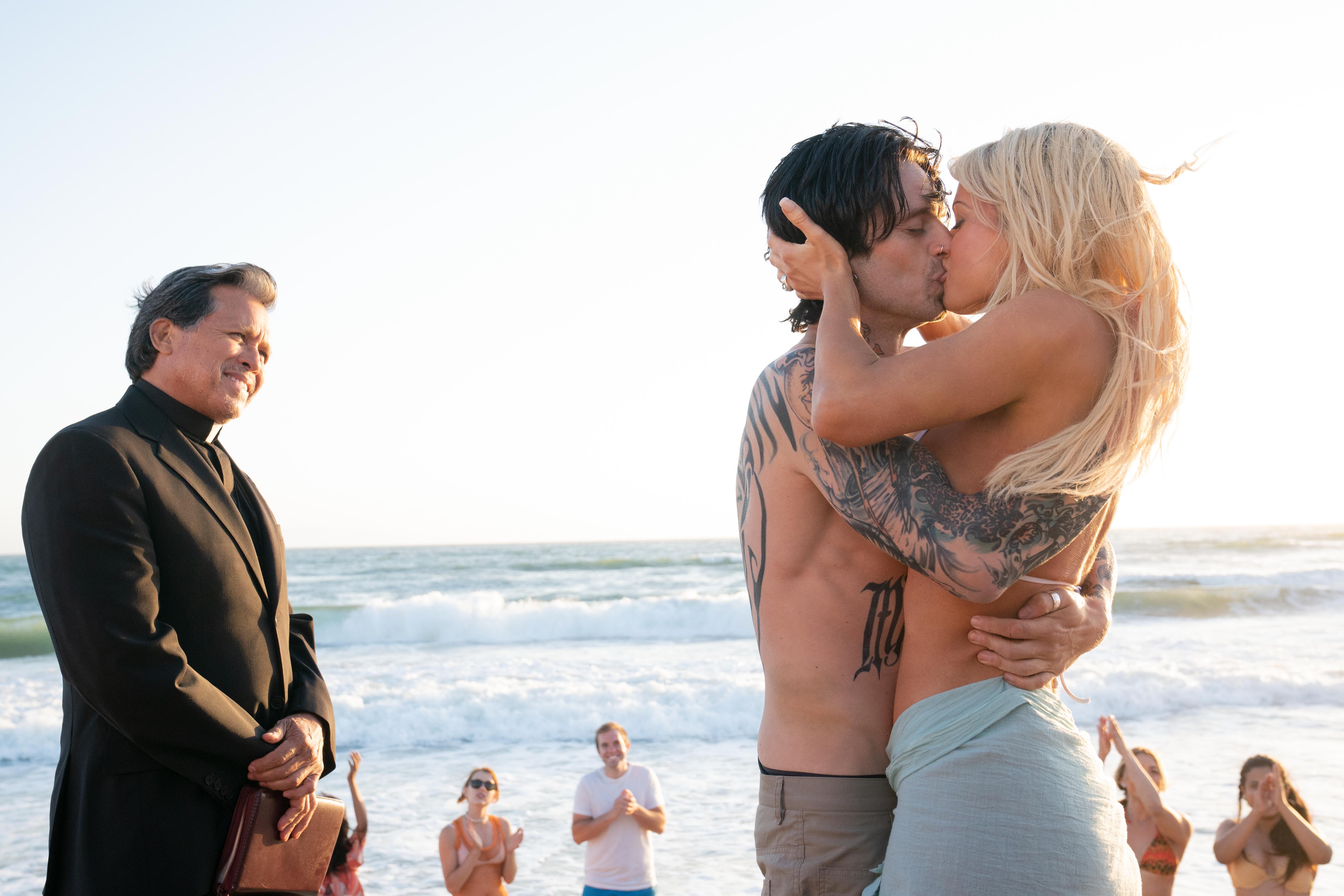 Rock' n' roll artists today are less likely to wear something publicly like that. How did you portray Tommy's hyper-masculine energy through clothing that today's audiences may associate with femininity?
I think, with Tommy, 80s glam and Mötley Crüe, the makeup, heels, and theatricality are where their masculinity comes through. It's intimidating in a way. He's this force of masculinity wearing just a thong. We didn't use it, but we made a shiny baby pink satin one because it would show he just really doesn't care.
How did you differentiate Pam and Tommy's wardrobes from that of the non-celebrity characters?
We kind of viewed Taylor Schilling and Seth Rogen's characters, Erica and Rand, as the poor man's Pam and Tommy. She's a porn star and blonde. We took it to a different level, with her clothes being more worn-in, casual and homely. The idea is she's been working making porn all day and comes home and changes into something comfortable, so we tried to show that in the softness of her clothing. And also keep it within that time and region. She's living in the deep valley, which at the time was kind of modern hippie. [The real] Rand, we didn't have many photos of other than his own porn. I wanted to show the difference between this guy, who is just working to pay the bills, and Tommy, this peacock at all times. Rand jeans are very Seinfeld — what the average guy was wearing — and the idea was maybe his shirt is from his aunt, and he still has it after four years. 
Uncle Miltie [Nick Offerman's character] was also hard to find images of unless you watch his porn, and even that wasn't the best. We mixed his style with Max Baer Jr., an actor in The Beverly Hillbillies who later became a porn producer. He always wore a fanny pack and these crunchy track-style pants.
During the period, Pam was often viewed through this very male lens, especially in Baywatch and the sex tape. Did that impact how you put together her wardrobe? 
I can't speak for Pam herself, but in our story, she knew what these men wanted to see, and it was through the male gaze she was dressing. I think she was incredibly smart about what she was doing. I don't think of her as a shrinking violet. She was incredibly confident in her body, and she knew that was an asset to her. There's this scene where she's meeting with all these businessmen in Cancun. To them, she's this ultimate girl-next-door mixed with being a beautiful bombshell. I found this very sexy Westwood dress with little pink flowers and ruffles that we altered to Lily's prosthetic. Everything about it said 'Pam Anderson' to me. She knew how to dress the part, and it was empowering for her.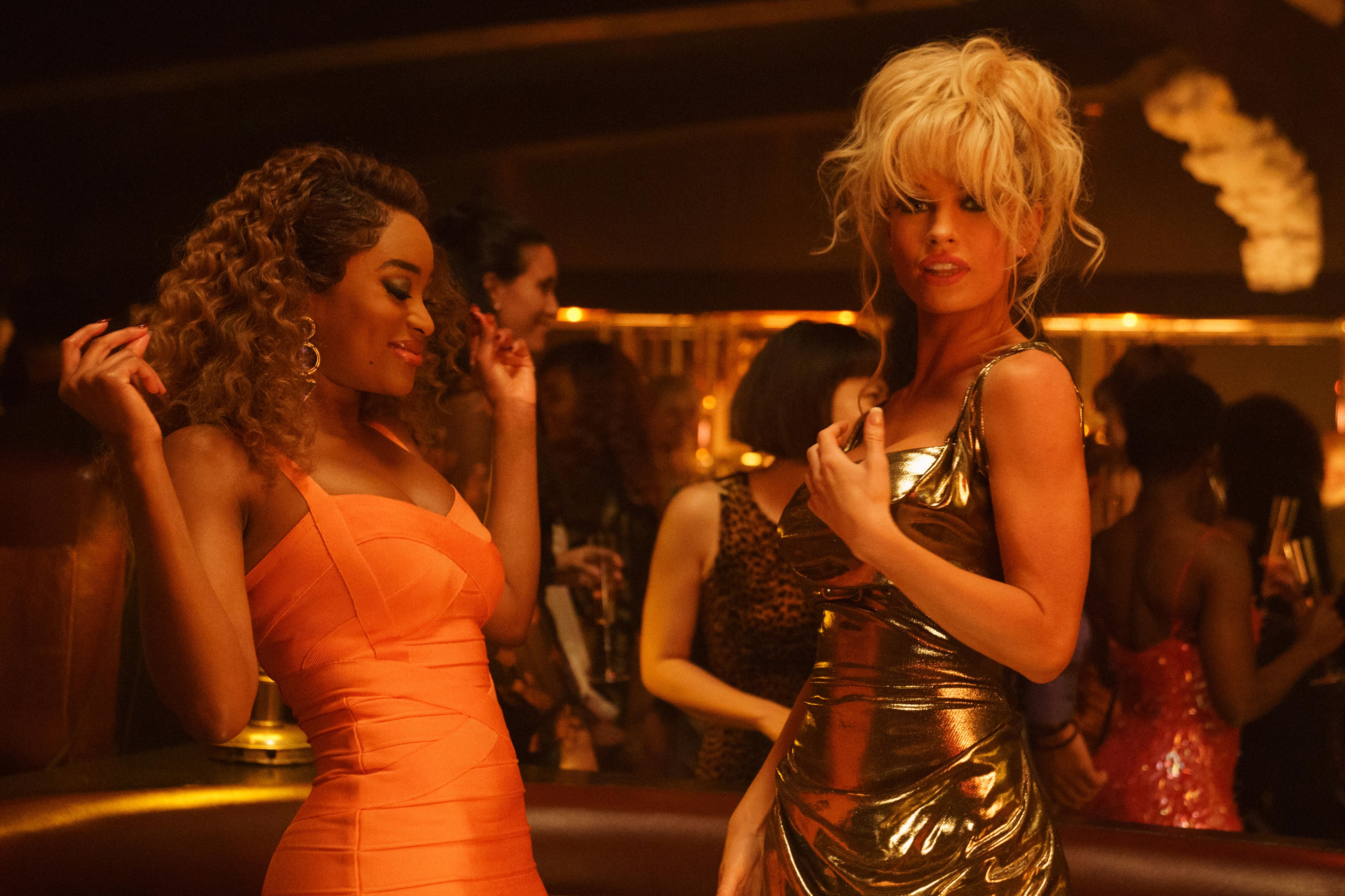 Follow i-D on Instagram and TikTok for more fashion and TV.
Credits
All images courtesy of Disney+